1/12th CHRISTMAS TREES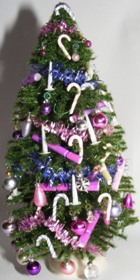 The first person to bring a Christmas Tree into a house, in the way we know it today, may have been the 16th century German preacher Martin Luther. A story is told that, one night before Christmas, he was walking through the forest and looked up to see the stars shining through the tree branches. It was so beautiful, that he went home and told his children that it reminded him of Jesus, who left the stars of heaven to come to earth at Christmas. Some people say this is the same tree as the 'Riga' tree, but it isn't! The Riga tree originally took place a few decades earlier. The custom of having Christmas trees could well have travelled along the Baltic sea, from Latvia to Germany. In the 1400s and 1500s, the countries which are now Germany and Latvia were them part of two larger empires which were neighbors. Another story says that St. Boniface of Crediton (a village in Devon, UK) left England and traveled to Germany to preach to the pagan German tribes and convert them to Christianity. He is said to have come across a group of pagans about to sacrifice a young boy while worshipping an oak tree. In anger, and to stop the sacrifice, St. Boniface is said to have cut down the oak tree and, to his amazement, a young fir tree sprang up from the roots of the oak tree. St. Boniface took this as a sign of the Christian faith and his followers decorated the tree with candles so that St. Boniface could preach to the pagans at night. There is another legend, from Germany, about how the Christmas Tree came into being, it goes: Once on a cold Christmas Eve night, a forester and his family were in their cottage gathered round the fire to keep warm. Suddenly there was a knock on the door. When the forester opened the door, he found a poor little boy standing on the door step, lost and alone. The forester welcomed him into his house and the family fed and washed him and put him to bed in the youngest sons own bed (he had to share with his brother that night!). The next morning, Christmas Morning, the family were woken up by a choir of angels, and the poor little boy had turned into Jesus, the Christ Child. The Christ Child went into the front garden of the cottage and broke a branch off a Fir tree and gave it to the family as a present to say thank you for looking after him. So ever since them, people have remembered that night by bringing a Christmas Tree into their homes! A drawing of the famous Royal Christmas Tree from 1848 In Germany, the first Christmas Trees were decorated with edible things, such as gingerbread and gold covered apples. Then glass makers made special small ornaments similar to some of the decorations used today. In 1605 an unknown German wrote: "At Christmas they set up fir trees in the parlours of Strasbourg and hang thereon roses cut out of many-colored paper, apples, wafers, gold foil, sweets, etc." At first, a figure of the Baby Jesus was put on the top of the tree. Over time it changed to an angel/fairy that told the shepherds about Jesus, or a star like the Wise Men saw. The first Christmas Trees came to Britain sometime in the 1830s. They became very popular in 1841, when Prince Albert (Queen Victoria's German husband) had a Christmas Tree set up in Windsor Castle. In 1848, drawing of "The Queen's Christmas tree at Windsor Castle" was published in the Illustrated London News. The drawing was republished in Godey's Lady's Book, Philadelphia in December 1850 (but they removed the Queen's crown and Prince Albert's moustache to make it look 'American'!). The publication of the drawing helped Christmas Trees become popular in the UK and USA. In Victorian times, the tree would have been decorated with candles to represent stars. In many parts of Europe, candles are still used to decorate Christmas trees.
OMMRCCCT003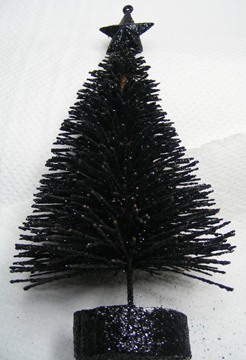 Black glitter tree on a round base. 16cm high from base to top of star.
OMMRCCCT006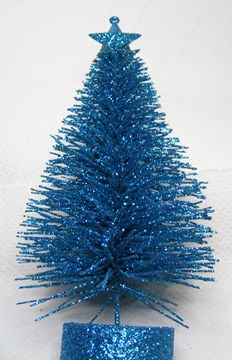 Blue glitter tree on a round base. 16cm high from base to top of star.
OMMRCCCT007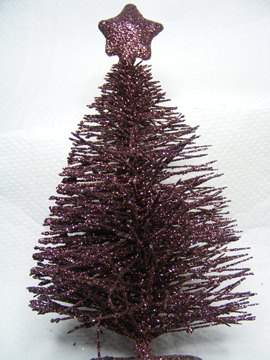 Brown glitter tree on a round base. 16cm high from base to top of star.
OMMRCCCT022

A set of 2 fibre optic Christmas trees. No hard wiring needed trees run on batteries. The trees are covered in a sprinkling of snow. Ideal if you...
OMMRCCCT005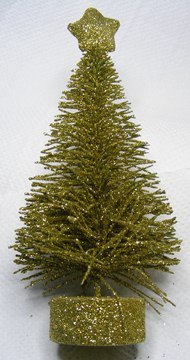 Gold glitter tree on a round base. 16cm high from base to top of star.
OMMRCCCT015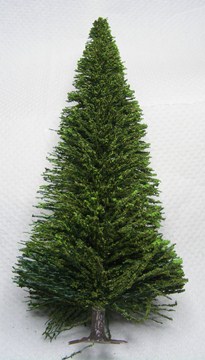 A tall thinner tree ideal for smaller spaces.
OMMRCCCT016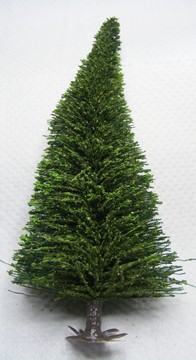 A medium height thinner christmas tree for smaller spaces.
OMMRCCCT009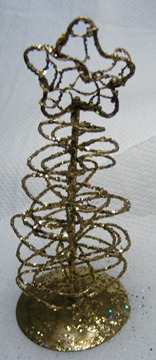 Modern glittered tree on flat base. 12.5 cm high
OMMRCCCT008

 Modern glittered tree on flat base. 12.5 cm high
New Products For March - THE CHRISTMAS CABIN